BEEF HARVESTING AND PROCESSING
Our Process
As the first step in our custom beef processing, we age the beef for 14 days.   If you would like to have it aged longer, please call us for pricing: we offer a 21-day or 28-day option.
Our typical days for beef harvest are Tuesday, Wednesday and Friday. We will need cutting instructions (how you want it prepared) within 7 days of harvest.
Need more information before you start? Please see our FAQ page.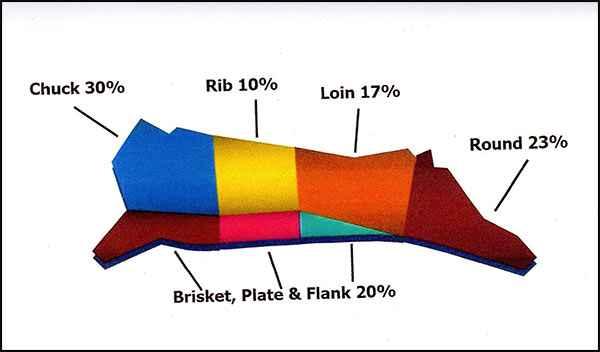 Custom Beef Processing Cutting Instructions
Please be sure we have your cutting instructions within seven days of drop off for beef. If we do not receive your cutting instructions by this time, a standard cut will apply. Click here to fill out a cutting instruction form.
Beef Sausage Options
(please call for pricing):
1. Spicy Kielbasa
2. Summer Sausage
3. Jalapeno Cheddar Summer Sausage
4. Jalapeño Cheddar Snack Sticks
5. Regular Snack Sticks
6. Breakfast
Storage
We will gladly hold your order for one week after notification. After that time,  a storage charge will be assessed at $1.00 per box per week.
Payment
We accept the following forms of payment, due at pickup: debit cards, checks or cash.
Harvest
Standard Harvest -- $65.00
Harvest Only -- Includes 14 Day Minimum Dry Aging --$100.00
Extra Hang Time --21 Day Minimum Dry Aging -- $100.00
Emergency Harvest -- Applies only when no other harvest is already scheduled or extra time/ labor is necessary for processing -- $100.00
Custom Beef
Processing Charges
Processing Rates Per Pound, hanging weight basis.
Standard Cutting (whole or half) on HCW-- $0.75
Quarters, specialty or Boneless on HCW --$0.80
Value Added Cut Option on HCW--$0.85
Patties ( per lb. finished weight)-- $0.50
Processing Guides
For your convenience, we have developed a series of processing guides. You have several options for completing your order. Please choose one:
1. Fill out our online form here.
2. Call in your order to 970-330-8400;
3. Download our PDF  processing order form here.
We are proud to have Northern Colorado's most experienced processing crew, using the latest technology to offer our customers the best cutting and packaging around. In addition to daily USDA inspections, our years of experience cutting and packaging ensures you get your meat processed your way.
If you are interested in selling your own meat, please visit our producer's page to learn more.